Increase Visibility For Your Local Consumers And Search Engines By Understanding What Local SEO Is?
Many business owners are unaware of what is local SEO.
That's why I bring a topic called "what is Local SEO".
In this blog post, we'll cover the introduction of Local SEO.
First, you'll see the importance of Local SEO.
Second, you'll know about the benefits of local SEO for businesses.
Then, I'll show you the way local SEO works.
So, what is local SEO? Let's Understand.
An Introduction To Local SEO
Local SEO is an approach to search engine optimization (SEO) that makes your company appear more prominently in Google's local search results.
Local SEO is advantageous for any company that has a physical location or serves a specific region.
Any SEO plan aimed at clients in a particular area, city, or neighborhood must include a local search.
In order to increase your rankings and visibility in local search results, such as Google's Map Pack/Local Pack, you should concentrate on local SEO.
Increasing web page rankings in organic search is done through organic SEO.
Your website's position in those organic results can have a beneficial impact on how well it performs in the Local Pack.
When Google deems that a search has local intent, organic listings are another fantastic opportunity for your local business to show up in front of eager searchers.
Therefore, despite the fact that local and organic SEO are connected in these ways, each demands a distinct strategy that uses various optimization techniques.
Let's begin with – what is local SEO and why is it important.
The process of optimizing a website for local search in order to improve traffic, leads, and brand exposure is known as local SEO.
Finding local keywords, improving a company's business profile, and creating "NAP" (Name, address, and phone number) citations are typical chores connected with local SEO.
Local companies are more easily found by neighboring customers using a local SEO strategy. 
It enhances a website's visibility, increases web traffic, and generates income by connecting businesses with nearby buyers.
Why Local SEO Is Important?
Now that we have understood "what is local SEO", let's move on to its importance.
Here are some statistics that show the continued value of local search for businesses:
1. Positive Reviews Can Bring Nearby Clients With Local SEO.
2. Reach Local Customers Right Away Who Need Your Service.
More consumers will learn about your brand as a result of better presence in local search results. From this point, the searcher may go to your GBP, click through to your website, or choose to stop by your storefront.
Google Maps is used by more than 86% of users to locate businesses. 
In a recent poll on local search, 61% of customers stated that they conduct daily local searches. 
3. Mobile Users' Leads Can Be Targeted Through Local Search.
4. It Increases Competitiveness.
Due to the increasing number of organizations that are discovering the possibilities of digital marketing and SEO are attempting to gain an advantage over their rivals.
These fields have become extremely competitive. However, a lot of businesses have yet to take advantage of local SEO.
Google searches with local intent account for over 46% of all searches.
5. Sales Are Driven by Phone Search. In other words, local searches lead to Sales.
By taking steps to improve search visibility, more individuals will inevitably visit your company's Physical site and  website.
In addition, this may result in an increase in sales.
Now that we have understood the importance of the topic "what is local SEO", let's dive into its benefits.
The use of a local SEO strategy has a lot of advantages. They consist of expanding your audience, increasing conversion rates, and enhancing your reputation.
It is only reasonable to anticipate that your company will expand once you effectively start achieving these goals.
Most people think of increased traffic as the first benefit, but numerous other advantages might help your business develop.
Check them below:
Increased and relevant organic traffic.

More targeted audience

Lower ad costs.

A website with more authority.

More client reviews enhance brand reputation.

A rise in brand recognition and credibility.

More links from local websites.

Better social signals.

Improved user experience on websites.
Features of Local SEO In Search Engine Result Pages (SERPs).
Local SEO
Local Finder
Google Maps
Localized Organic Results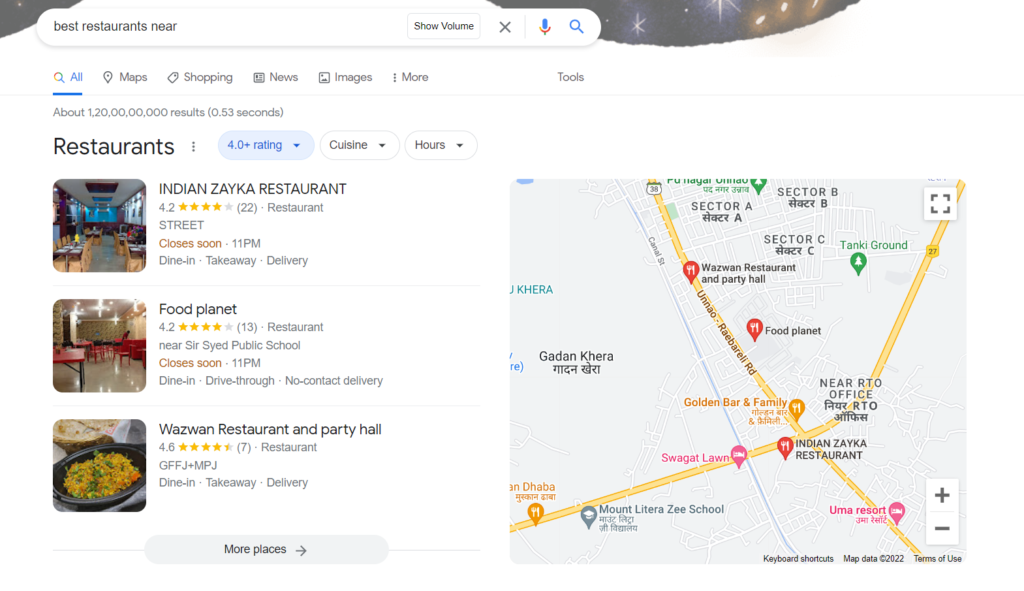 For a local search, the Local Pack is displayed at the top of the search engine results page (SERP).
Listings are shown next to a map that has pins indicating each business' location. 
When a query contains local service, local intent, or a geographic term like "coffee shop near me" or "best restaurants near in [insert city here]," a Local Pack appears in the SERPs. 
The nearby businesses are included in these results.
Being highlighted in Google's Local Pack is quite advantageous. Naturally, the top three results receive the most clicks, which may result in increased revenue and profits.
A longer list of business profiles for nearby businesses that are relevant to the search is provided by the Local Finder.
In other words, Local Finder is an extended version of the Local Pack.
You can access the Local Finder by clicking the "More businesses" option at the bottom of the Local Pack:
Making your business visible on maps involves using specific search phrases. On Google Maps, you'll find a considerably longer list of nearby businesses.
For instance, the results of a Google search for "Law firm spring valley NY" would be as follows: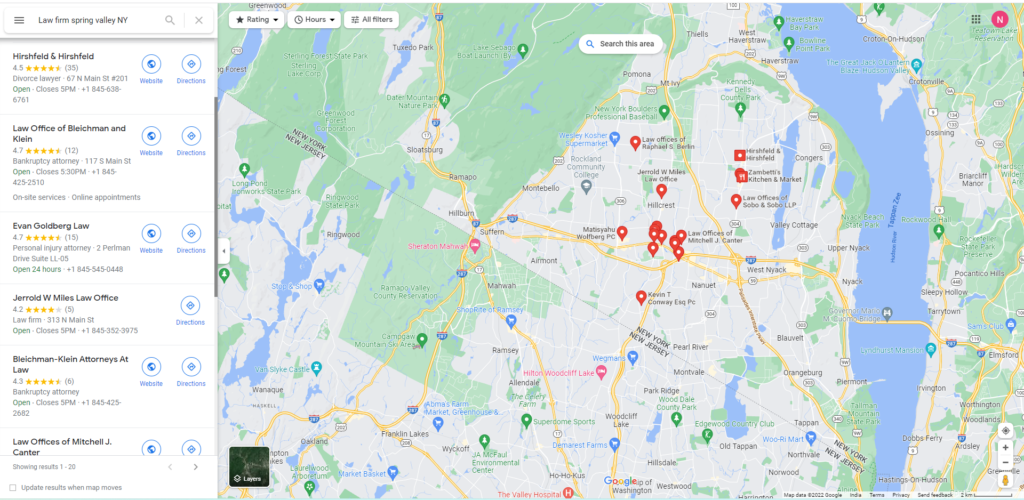 Localized Organic Results
Localized Organic Results are tailored to the searcher's location, providing you with several options to have website pages, business listings, and mentions on external websites appear for visitors.
No matter whether a searcher specifies a city in their query or not, localization is the best type of personalization search engines do to their SERPs, filtering entries so that users receive information about entities that are closest to them.
Local SEO is an approach to search engine optimization (SEO) that makes your business appear more prominently in Google's local search results.
It is beneficial for any company that has a physical location or serves a specific region. Local SEO can assist you to expand your business if, while searching Google for any relevant keywords for your company, a map with three entries displays beneath it (a situation known as a "map pack").
But first, you must understand how Google functions in order to comprehend local SEO.
You'll take a number of steps to increase your local search presence while performing SEO for a local firm. Among the best practice tactics are:
Take control of and improve your Google Business Profile (formerly Google My Business)

Management of reputation building through ratings and reviews.

Optimization of website

NAP Citation Building

Adapting to changes in Google search

Building Local Links

Fighting with spam conflicts
When done correctly, this kind of local Search Engine Optimization aids a local company's visibility in the Local Pack, Local Finder, Localized Organic Results, and on Google Maps.
That's the end of my topic, "what is Local SEO?"
Now that you know what is local SEO (Search Engine Optimization), you should be able to explain its importance to any local firm.
Eventually, I would like to thank you for reading this blog post "what is Local SEO?"
We want to hear from you. Ask questions, make comments, and share your, tips and opinions.
Let your voice be heard on the topic "what is local SEO?"